AKHESA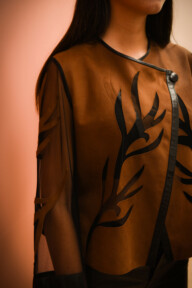 The
brand
The brand was created by Mr. BARUH IBRAHIMOF in 1998.
BARUH was born in Istanbul in a Jewish family. He studied in a French high school, he arrived in France at the age of 20. A few years later, very influenced by French fashion, he began his career in ready-to-wear to launch his brand AKHESA.
BARUH uses noble materials, such as leather, skin, lace, cashmere, and fur.
The collection :
For the AKHESA spring summer 2022 collection, the brand emphasizes light leather pieces by carefully selecting the quality of the skins. You will have the pleasure of discovering fluid and modern pieces, mixing leather and tulle, hand-made weavings, or even reversible pieces.
From timeless to the most creative pieces, you will find what you are looking for!