Telmail Olivier

Philips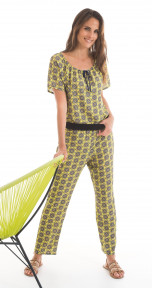 The
brand
SEDEM is a knitting company founded in 1936 in Vendée (France), where it has been operating since that date. Its Telmail brand has registered in 1953 and has been marketed to multi-brand retailers since this date.
This collection of knitwear specialist dresses women looking for comfort and classic style with a trendy twist. These easy-to-wear models easily accommodate accessories that transform a sportswear line into a city or even a dressed outfit
Another feature of the Telmail brand is size grid ranging from 38 to 56.
So with Telmail, elegance has no size
Descriptif de la collection :
The brand Olivier Philips was born from the stylist of the same name in 2000.
In 2010, he entrusted the industrialization and marketing of these items to the SEDEM company, which specializes in knitting, in order to refocus on the very essence of his unique creations.
M Philips imagines and assembles his first prototypes in an artisanal way which we find the reminiscence in the final article.