Mat de

Misaine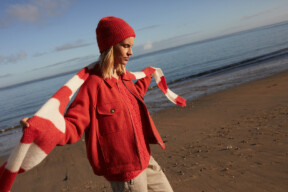 The
brand
Mat de Misaine brand was founded in 1990 in Saint-Gilles-Croix-de-Vie, a famous fishing port and seaside resort on the Atlantic Ocean. Since its creation, the brand has sought to offer clothing that combines fashion and nautical spirit: a new interpretation of products inspired by the traditional workwear of deep-sea fishermen in dishevelled fabric for men and women who prefer an elegant and authentic style.
Mat de Misaine :
Our vision of French elegance and our inextricable connection with the seamen's clothing inspired a versatile and modern closet in a casual chic style, which is very far from the usual perception of sailors' clothing. We give priority to natural fabrics for comfort and durability, such as cotton, linen, wool and cashmere.
100% French product. Our collections are created in our design studio located in Nantes. They are then realized in the prototype atelier in Saint-Gilles-de-Croix-de-Vie.