Mat de

Misaine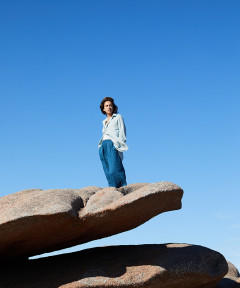 The
brand
A mât de misaine is the foremost mast on a schooner, while the misaine is the foresail set on it. Our name is both technical and poetic, reflecting exactly who we are. Mat de Misaine was established in 1990 in Saint-Gilles-Croix-de-Vie - a famous fishing port and seaside resort on the French Atlantic coast. Since then the brand has focused on offering clothing which combines the worlds of sea and fashion: clothing inspired of the traditional washed canvas workwear of deep sea fishermen and revisited for men and women in search of elegant and authentic products.To this day, Mat de Misaine draws inspiration from its roots, the Atlantic.
Mat de Misaine's style :
For this new collection spring/summer 22, Mat de Misaine created a collection ready to escape from every day life, turned to the horizon. Simple pleasure like swimming in the sea, walking along the beach and listening to the waves. A programme with tonique colors, a season animated by bright prints.